Nordson® Compatible Modules And Complete Guns At Unbeatable Prices
We offer a range of Nordson® modules and complete guns in stock for immediate delivery. Traditional modules such as the H200 utilise compressed air to open the module and allow adhesive to pass out of the nozzle. A spring is then used to close the module when the firing signal has been turned off.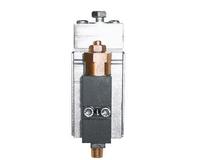 More recently modules have become smaller in size to allow fitting into restricted spaces. They also incorporate air open and air close technology which ensures a clean adhesive cutoff for fast intermittent applications.
Why not find out how much you could start saving today?
Click the button below to download the Nordson spares catalogue:


Nordson Compatible Spares Catalogue

Download 2.79 MB


Need Help Sourcing A Spare Part? Call Today On +44(0)1327 700222
---
Nordson® Modules & Complete Guns

| Nordson Part Number | Description | Universal Part Number |
| --- | --- | --- |
| 153011 | H20 Module (High flow/high viscosity) | UAS302 |
| 276119 / 326583 | H200 Module (SolidBlue, Classic Blue S) | UAS303 |
| 117713 | H200 Module (Reduced Cavity .010) | UAS307 |
| 117714 | H200 Module (Reduced Cavity .012) | UAS308 |
| 117804 | H200 Module (Reduced Cavity .016) | UAS309 |
| 117715 | H200 Module (Reduced Cavity .020) | UAS310 |
| H20-T (274702 / 815138) | H20 Gun / Application Head (c/w module, req's nozzle & solenoid) | UAS311 |
| H201-T (273298) | H201-T Gun / Application Head (c/w module, req's nozzle & solenoid) | UAS312 |
| 274765 | AD31 Manual Handgun (c/w nozzle of your choice) | UAS313 |
| 1052927 | SolidBlue Module | UAS314 |
| 1051249 | MiniBlue Module | UAS315 |